a single mother
10 Things Your Friend Going Through a Divorce Doesn't Want to Hear
By
|
The end of a marriage is a difficult and tumultuous time, for everyone involved. It isn't always sad; when a bad marriage ends there can be a lot of relief and hope for the future. But even in the best scenarios, there are major changes and adjustments that happen when a marriage ends. And if you don't know the whole story behind your friend getting divorced, saying the wrong thing can be incredibly hurtful and unsupportive. When my marriage fell apart, lots of friends were there to carry me through the fire. And while the majority of them were amazing, there were a few who said things I didn't need/want to hear. If you have a friend getting divorced, try to avoid saying these 10 things; it's not that you're trying to be unhelpful, but when someone is in an emotionally fragile state, it can come off that way.
#1 Thing Not to Say to Your Friend Getting Divorced: "But you seemed so happy!"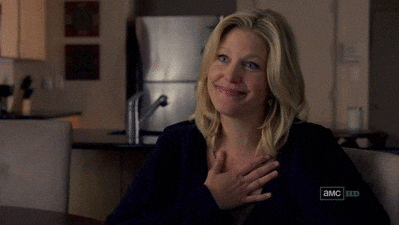 Image: Giphy
The image I put forth in public and on social media was starkly different than what was going on behind closed doors. We all fall victim to keeping up with the Joneses, especially when it comes to our spouses. People may seem happy, but happy marriages don't end.