02 Dec 2017
That's a lot of fornicating bears.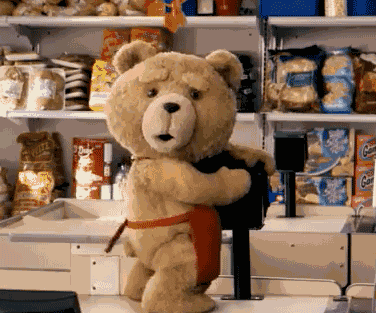 Image: Giphy
Penny Knutson of Green Bay, WI, says her daughter took the picture at a Shopko location. This is seriously hilarious. I imagine it was the handy work of a bunch of bored retail workers, or a few customers with some time on their hands and a very dirty sense of humor. But whoever did it, I admire their dedication and creativity.
Also, what a great selling point for the couch! If it can withstand dirty bear sex, that couch was built to last. Probably easy to wipe down, too.
Penny seemed offended by the photo, and ok. I guess it's a bit shocking to stumble upon something like this when you're out shopping with your kids. She does ask, "How does this go unnoticed by staff?" Well, Penny, considering it was probably the staff that staged the debauched scene, I imagine they were just waiting for someone to come along and admire their work. By and large, people got a kick out of the kinky stuffies.
The jokes, they write themselves.
Hopefully, Penny's daughter wasn't too traumatized by the teddy bear orgy. Keep in mind, people: the holiday season is hell on retail workers, and sometimes they need to let off a little steam. Maybe they didn't arrange the bears, who knows? Maybe they just left them out like that for longer than they should have, to give themselves a little comic relief. Either way, we're here for it. Bears gotta get theirs, too.
(Image: Pixabay/congerdesign)