'Capitalist Pig' Seeks Skinny Libertarian Spiritualist In The Worst Dating Ad You Will Ever See
By
|
Dating in the modern world is hard. There are a million apps and websites promising to introduce people to the loves of their lives, but most people are not compatible. You could meet a million people without ever meeting someone whose strengths and weaknesses mesh favorably with yours. Fed up with all conventional means of attracting a mate, 31-year-old Nate Rifkin created a website called "Should You Date Nate?" to advertise himself to potential romantic partners. Unfortunately, Nate is terrible, and his website is worse. Reading it won't make you want to date Nate, it will just make you think, "Dying alone isn't such a bad thing."
Don't date Nate
Nate Rifkin is a 31-year-old who describes himself as a "Passionate Businessman" and a "capitalist pig." He's a workaholic and an introvert and "abhors the stuff 95% of the population obsesses over." He wants to find a thin, exceptionally pretty libertarian woman to share his life with, so he started a website and wrote 3,000 words advertising himself as a potential romantic partner.  Men's Health called it "A Prime Example of What Not to Do to Get Laid."
Nate is a libertarian who hates the "inept, deplorable, and useless" FDA, probably because he sells wacky nutritional supplements. (Nate sells a water pitcher that he says "might ake you younger.") He likes meditating and making money. He hates pop culture, liberalism, and "vapid drivel."
This very tall man could be your husband–the life partner, co-parent, and the person you ask, "are the dishes in the dishwasher clean or dirty?" for the rest of your life–provided you are a fit, healthy, intelligent, slim woman with a small waist and a very pretty face. Also you have to love people who make lots of money, reject government oversight and taxation, and be between the ages of 22 and 35. He wants a "healthy" woman who doesn't eat pizza and cinnamon buns. You can't drink too much, go to clubs or parties, do any sorts of drugs, sneer at spiritualism, or make fun of his haircut.
Did anyone else watch Battlestar Galactica? Because I promised everyone I would stop peppering articles with sci-fi references, but this guy looks just like Gaius Baltar, right before he sold out all of humanity to evil robots so he could have sex with a fembot in a freakum dress.
What do you win if Nate picks you?
Nate sounds like he is looking for some unholy combination of Ayn Rand and Gwyneth Paltrow. (Must look like Gwyneth.) He plans to peruse the beautiful applicants and select a "winner" to take on a romantic, three-day vacation.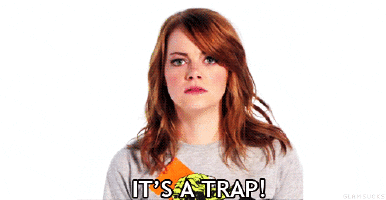 Please, don't go on a three-day vacation with this  man. That does not seem like it could possibly end well.
Nate's site was so tone-deaf, clueless, and horrifyingly awkward that it went completely viral. Now his crazy dating profile has been replaced by a lot of copy claiming it was in fact "The Most Badass PR Stunt of 2017." He's offering to teach people his marketing secrets, and using the traffic he's gotten from articles like "world's least self-aware human makes a website explaining why you should date him" as evidence that he's a master of viral marketing.
It's true that he got a ton of traffic from his website, but that's sort of like pointing out that the aspiring YouTube star who accidentally killed her boyfriend technically succeeded in becoming famous. Nobody seemed to actually want what Nate was selling.
Don't date Nate. Get a pizza and cinnamon buns and wine and watch a ton of TV, safe in the knowledge that all your favorite things will keep Nate far away from you.
Would you date Nate? Let us know in the comments.
Also read:
(Image: iStockPhoto / Giulio Fornasar)