Justin Timberlake's Music Video For New Song 'Filthy' Is A Steve Jobs Wet Dream
Justin Timberlake fans, your 2018 is made – maybe. The Timberlake just announced his new album, his first in four long years, reports E. The only problem? Man of the Woods looks and sounds completely different.
Of course, this isn't the first time Justin Timberlake has completely changed his sound.
Die-hard fans will point out every instance where someone hated on him if you ask. But, after watching the new video for 'Filthy,' even die-hards have to be questioning their loyalty.
The video is a Steve Jobs wet-dream. Taking place at a tech conference in 2028, Jobs – I mean Timberlake – debuts his latest creation, a lifelike dancing robot. The robot starts to dance to a song, which The Verge describes "sounds like chewing metal while listening to an old Justin Timberlake song." I literally can't understand what the song is about.  Something about someone putting filthy hands on someone else?
Then things get really weird – and uncomfortable. The robot starts getting sexually aggressive with the dancers. At one point, it is mimicking sex on the stage – remember this is supposed to take place at a tech conference!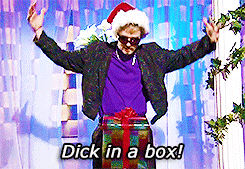 Image: Giphy
That is essentially the entire video. It is literally a dream where Timberlake-Jobs has created a robot version of himself. Oh, then Timberlake disappears, so I guess that makes everything okay? I know I wanted to disappear after watching this video.
Apparently, I'm not the only one who feels that Justin may have gone a little too far with this video. Twitter has had a field day since it's release.
https://twitter.com/YetAnotherSJW/status/949151037260144646?ref_src=twsrc%5Etfw&ref_url=http%3A%2F%2Fwww.eonline.com%2Fnews%2F903988%2Four-favorite-twitter-reactions-to-justin-timberlake-s-filthy
Of course, fans did race to defend it – even admit that they liked it.
This isn't the first time Timberlake has been criticized after the release of a single. His style developed and changed over the years. "Sexy Back" is nothing like his old-school boy-band pop songs, and I wouldn't expect it to be. However, Timberlake hasn't been making his own music for the last four years. Perhaps he spends too much time working on other projects?
While I am not one of the die-hard Timberlake fans, I can confidently say that this isn't going to be the next "Sexy Back." Watch the full video above and tell us, what do you think?
(Image: YouTube / justintimberlakeVEVO)